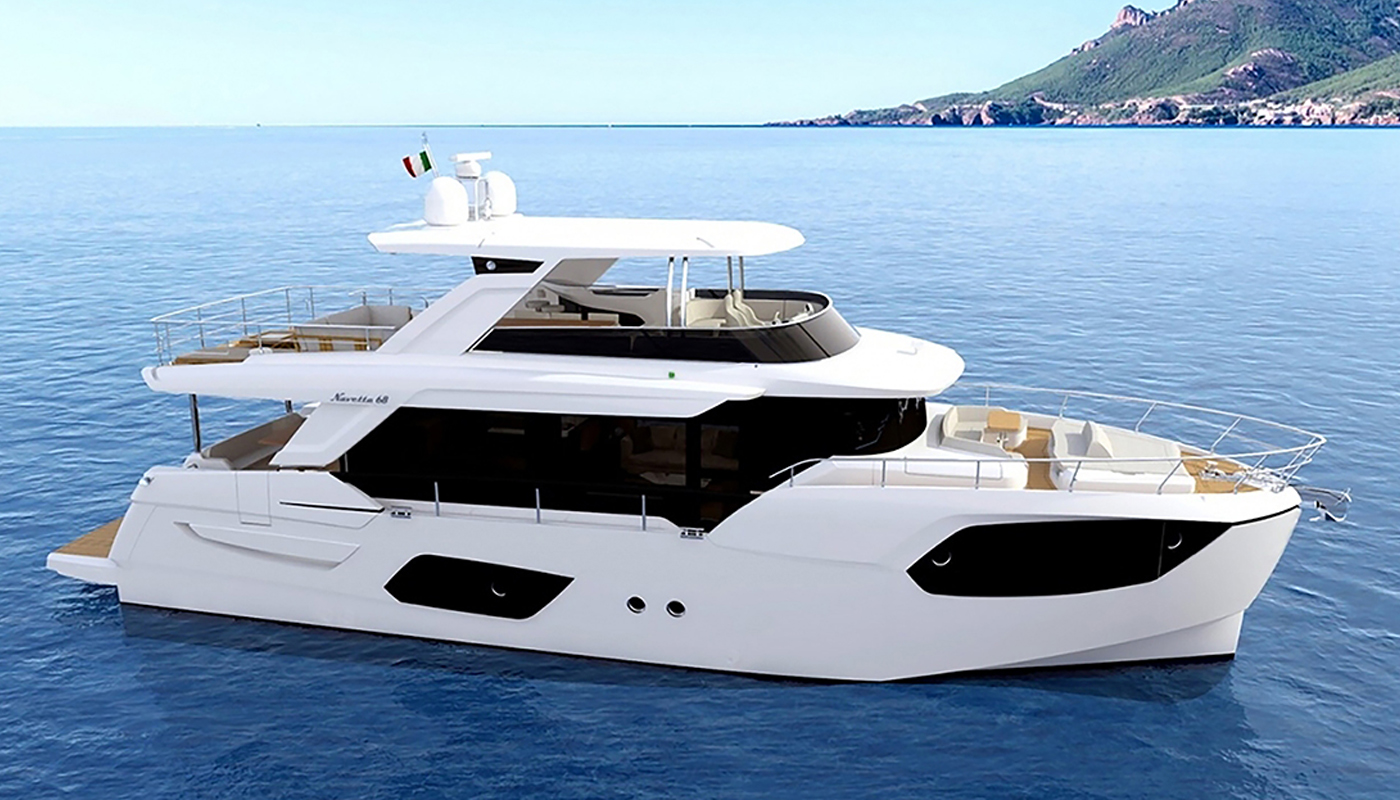 "Teaching comes only to indicate the way and the journey; but the vision will be of the one who has wanted to see".
 Plotino
Elegant, sophisticated and attractive like no other … a vision in the waves!
There is no mention of one of the sirens that tempted Ulysses during his wonderful journey, nor of a mirage after a long and tiring travel.
The undisputed protagonist of the 2019 boating season is "The Absolute Vision", the new Navetta 68, one of the latest emblems of the Made in Italy conceived by the famous shipyard to enchant the world. A pure combination of technological innovation and functional elegance.
This queen of the seas includes four cabins: the owner's cabin, secluded at the bow, in a raised position above the floatation level, the VIP cabin and two cabins with single beds (one of which is equipped with an electric mechanism that allows you to join / divide the beds according to the needs), as well as two separate cabins for the crew.
Everything is further enriched on a functional level by 6 sliding doors and a large storage compartment.
Here, comfort reigns supreme in a truly refined setting where everything is well-finished and nothing is left to chance, from the impeccable and optimized subdivision of the spaces, to the choice of a sophisticated décor.
The flybridge, the largest in the category, gives space to conviviality and a pleasant atmosphere thanks to a large area where sofas and small armchairs are placed, but also to the way the living area is designed on the main deck, with the kitchen halfway between the internal "dining area", finely furnished, and the external "dinette". This yacht was born to be lived and to be the best frame for amazing life experiences.
Now, imagine watching the spectacle of a starry sky or a breathtaking sunset, with the one you love, lulled by the waves: this in your mind is still a simple "vision", but soon it will become reality on board of Navetta 68: a daydream journey.
Come and see her at: https://www.www.absoluteyachts.com/en/absolute_event/yachting-festival-cannes/