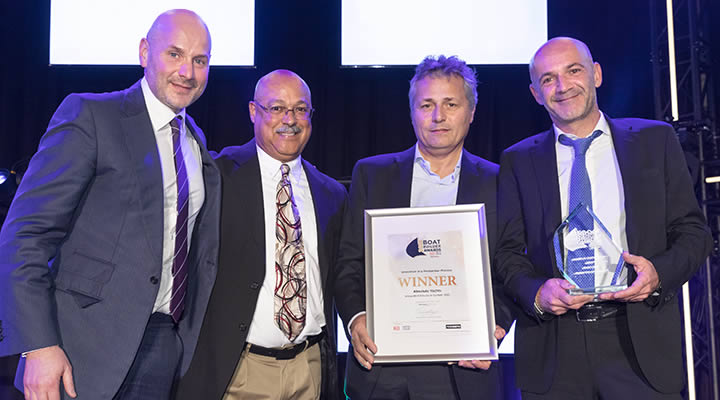 ABSOLUTE wins the "Boat Builder Awards" thanks to the ISS System.
The success of the Absolute company is not showing any signs of letting up. On Tuesday, November 13th, during METS exhibition, the renowned company has received the "Boat Builder Awards" acknowledgment in the category "Innovation in a Production Process".
The credit for this goal has been assigned to the state-of-the-art "Integrated Structural System" (ISS) manufacturing system, which has been defined as a "unique and original innovation" both for the owner and for the activities carried out in the shipyard. This working method is an Absolute excellence, born from the founders' deep knowledge of the manufacturing techniques. The idea behind concerns an integration of all the activities into an efficient and optimized system during every stage of the production.
This success is the result of an excellent team effort, passionately being developed day after day by the Absolute team, even more strong and cohesive, and by the international sales network.
"Reaching for the Absolute" is not just the brand philosophy, but it's an attitude aimed at the excellence, of which Absolute has received a further, absolute, confirmation.