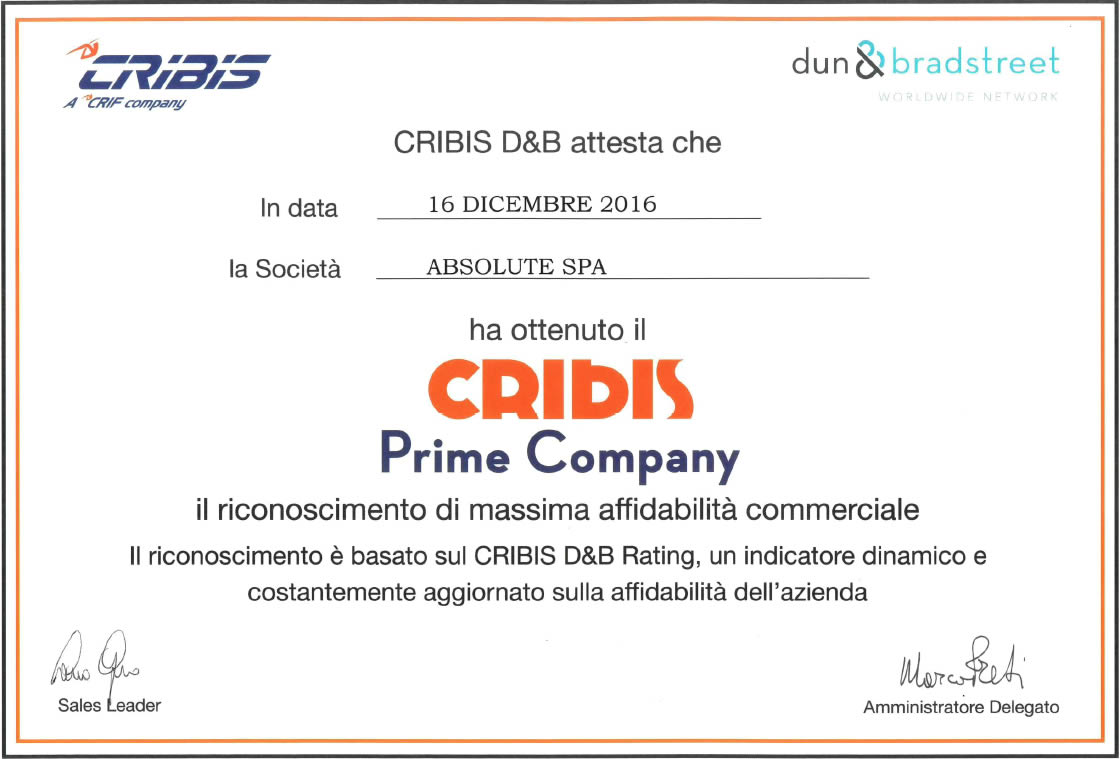 ABSOLUTE SPA: CRIBIS PRIME COMPAN
On December 16th, 2016 Dun & Bradstreet by means of CRIBIS.com – local supplier of business information – issued the recognition as most reliable commercial entity to ABSOLUTE SPA. 
This recognition as Prime Company is based on a dynamic and constantly updated rate.
Cribis and Dun & Bradstreet collect and complement financial and economic objective data to establish comparison indices that are homogeneous with respect to other market participants.
Absolute continues to invest year after year on business growth while always guaranteeing the maximum reliability and support for the whole commercial network, by having on its disposal autonomous sources of funding, which are sufficient to satisfy all the needs.
We are proud to share with you this independent and public recognition.
ABSOLUTE YACHTS – "ABSOLUTE GLOBAL PROJECT"
"Absolute Global Project" is a Made in Italy protection project that we daily convey through the manufacturing of our yachts, to protect the character of the Italian workforce all over the world and to keep alive and proud our creative and intellectual identity.
For the fourth consecutive edition, the Emilia-Romagna region has decided to support the "Absolute Global Project" through a patronage and a co-financing of the European Development Fund.
The contribution received by the Region, addressed to worthy companies developing export projects, is for Absolute an important acknowledgment and a major incentive, that allows us to make our presence at the main worldwide Boat Shows always more stable and awaited, to speak to an always broader audience, to strengthen our cooperation with the media and to become an always more well-known brand at global level.