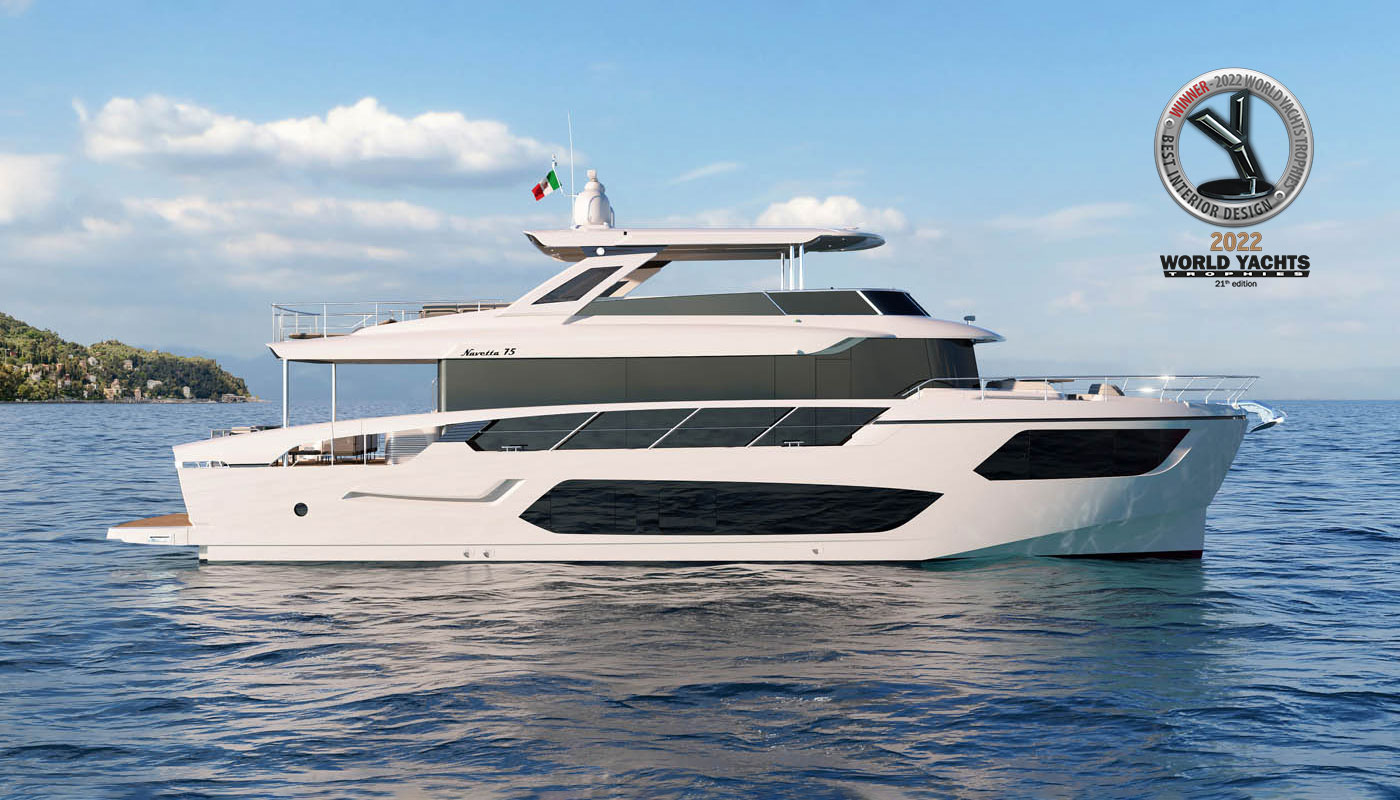 Absolute's prestige position in the luxury yachts sector was confirmed at Cannes by the 2022 World Yacht Trophies prize, awarded to the Navetta 75 in the "Best Interior Design" category.
In fact the Navetta 75, Absolute's new flagship, presents all the brand's interior design hallmarks, a combination of style, comfort and functionality in interiors that can be modulated according to the occasion. For example, the galley can be continuous with the saloon, or separated, by means of a vertically-sliding mirror panel. Another distinctive design feature can be seen in the system of stairs and passageways that enables the crew to operate in total discretion, without having to enter guest spaces.
Absolute's choices for interior design are always in function of optimal comfort: for instance, the full-beam master cabin is in the bows, for privacy and tranquillity. Throughout, Absolute's matchless artisanal skill and the finest materials – timber, leather, glass, stainless steel, marble – can be seen in interiors expressing Italian design flair.
The Navetta 75 was a world premiere at the Cannes show from 6 to 11 September. At this event, Absolute also showcased yachts from the Fly (50, 56 and 62 Fly) and Navetta ranges, from the spacious 48 to the Navetta 68. The 48 Coupé, from Absolute's third range, brought the total to nine boats afloat.
The second world premiere presented by Absolute at Cannes was the 56 Fly, which, like Navetta 75, won universal acclaim from the many visitors and journalists who took the opportunity of examining the brand's expertise from close up. The 56 Fly revealed many ingenious details in the area of sustainability, an important value for Absolute, as exemplified by the use of solar panels, and saloon windows that slide down to offer natural ventilation for optimum liveability when at anchor.
The flybridge offers all the pleasures of life aboard a yacht, with a command post benefiting from optimal views, a wet bar complete with refrigerators and ice-maker, outdoor galley and dining facilities, sunbed, sunroof and stern terrace.
The press conference held on 7 September mentioned Absolute's buoyant growth even in the two pandemic years of 2020 and 2021, and the authorisation for enlarging the plant in Podenzano, near Piacenza, to provide an additional 5,800 square metres for new models and equipment.
During the conference, the awards ceremony for Top Dealers was held. The Best New Entry prize was awarded to Yachting Partners Malta, for the immediate enthusiasm, involvement and effectiveness demonstrated by a new Absolute dealer in a challenging market environment. Best Brand Ambassador was awarded to Absolute Marine Ltd (Hong Kong) for the optimum presentation of Absolute's products and prestige to demanding and qualified customers. The Best Absolute Friend award was dedicated to the memory of Mario Cakar from Adriatic Wave (Croatia).
Absolute's next appointment on the international scene is the Genoa International Boat Show, from 22 to 27 September 2022.