We are your 'Yachting Partner' in the centre of the Mediterranean!
Founded in 2006, Yachting Partners Malta has quickly established as a leading player in the maritime industry in Malta, operating a superyacht agency, technical agency and a sales agency.
Malta, an EU member state since May 2004 is strategically situated in the centre of the Mediterranean with excellent natural protected harbours and also has the largest yacht registry in Europe. We can provide consultancy related to the flag and owning structures of your yacht.
Yachting Partners Malta employs a team of highly trained and passionate sales and technical professionals to ensure your vessel is always in tip top condition and ready to sail.
We are Dealers and Service Centre for world renowned brands and products.
Whether you're on passage or thinking to base your new Absolute in Malta, we will always be at your service.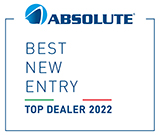 For the immediate enthusiasm, involvement and effectiveness shown in becoming an Absolute dealer during a challenging and uncertain market environment.
Yachting Partners Malta Ltd
183/4 Marina Street, Pieta PTA9042 – Malta
Malta